Artists Greetings Cards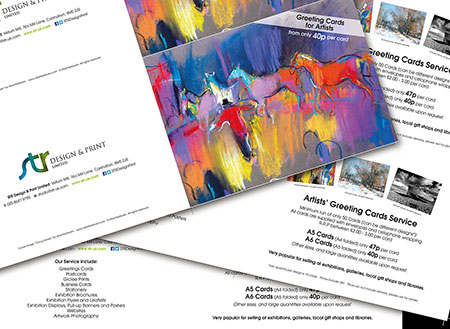 Greetings cards are very popular for selling at exhibitions, galleries, local gift shops and libraries and a great extra income for little effort.
At STR we offer a short and long run service depending on your requirements, with a minimum run of only 50 Cards (can be different designs*)
All cards are supplied with envelopes and celophane wrapping.
R.R.P between £2.00 – 3.00 per card
Traditional Format: 7×5″, A5 & A6
Square Format: 130x130mm (5×5″), or 150x150mm (6×6″)
Landscape Format: DL

Various sizes and large quantities available upon request.

*the min quantity per design is 10 cards, All cards within the minumum run must be the same format ie either A5 or 5×5, not a combination of the 2. Prices are plus VAT and do not include delivery, please ask for details if you are not based locally.
Prices subject to change without notice, please check with us before ordering.
Call or email us now for details